Original gift - SWEET TEMPTATION FROM THE FLIGHT
Does have your partner / wife, colleague or a friend birthday?

Are you thinking about the wedding gift?

Would you liket to give a tandem flight as special Christmas gift?

Do you want to be

original and unique?
Order a paragliding tandem flight in an exclusive gift package!
Present a great gift and experience that your loved ones will remember with a beautiful feeling.
"SWEET TEMPTATION" includes:
Ticket for SIGHTSEEING paragliding tandem flight
High-quality tandem T-shirt with nice graphics

DVD with short films for inspiration

Sweet surprise

Instructions and guidance for booking a tandem flight

Everything is nicely packed in the original gift candy box-style!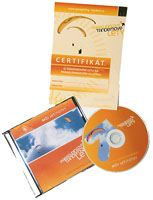 BONUS that you will receive ONLY WITH US!
After landing you will receive photos from the flight on a CD along with a certificate!

Sightseeing flight can be purchased as exclusive gift package.
Ticket is not bound to any particular term, the flight date can choose by you after contact with us on the basis of instructions in gift packaging.
To the gift package you can make extra order for THERMIC CHARGE or VIDEO ON DVD and improve this great gift.
The ticket inside the gift pack is valid for 12 months after purchase.
Price
80€  (1990 CZK) including VAT.