Thermal paragliding tandem flight
This is an extension of the sightseeing paragliding tandem flight when it is appropriate weather with thermal conditions. When we catch a thermal lift, we can climb a few hundred meters above the ground, where the view is fantastic and you will enjoy a great experience. Flying in thermals is a part of today´s paragliding sport.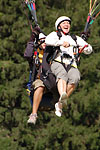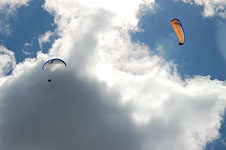 Charakteristics of thermal paragliding flight:
This is an extension of sightseeing paragliding tandem flight.

Length of the flight is extended by about 10-15 minutes.

In the case of a shorter flight and the absence of thermals new start for FREE. The total time spent in the air is 20 minutes..

The passenger may wish to make an interesting acrobatic maneuvers, such as a spiral or wingovers, which can shorten the flight time, but added to the intensity of experience.

The ticket is valid for 12 months after purchase. Exact term of flight can be reserved within this period.

For passenger heavier than 100 kg it is recommended agree on thermal flight when booking and pay in cash or on site according to current thermal conditions.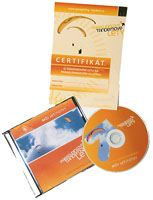 BONUS that you will receive ONLY WITH US!
After landing you will receive photos from the flight on a CD along with a certificate!

Sightseeing flight can be purchased as exclusive gift package.
Suitable conditions for paragliding tandem flights
Thermal paragliding tandem flight can take place from April to mid-September in appropriate thermal conditions. For specific weather conditions we have a number of places for different wind directions around Czech republic - check WHERE WE FLY. The specific location is chosen due to weather conditions and the number of passengers to the place.
To create thermal lifts is is essential that the sun is shining and the air is unstable to create thermal lifts. For sufficient heating of the surface, the best time is at spring or summer and afternoon hours.
Warning: thermal flight is difficult in weaker conditions with passengers heavier than 100 kg.
The length of the flight and height above ground
The entire flight takes about 20 minutes. After switching off from the winch a height of about 300 meters above the ground we try to get more height and a few hundred meters in thermal climbs.
If we don´t catch a thermal lift and land soon, we will make another attempt. Multiple flights will give passengers more place to experience all phases of the flight and therefore better get know paragliding flying.
Price
Surcharge for the thermal paragliding tandem flight is 40 € (990 CZK).

Claims for passenger
You do not need to have any special physical conditions for flying a tandem glider. Children can fly from 10 years age and adults up to a maximum weight of 120 kg. We recommend to use good boots, long pants, a sweatshirt or jacket with long sleeves.
Spectators
Because we will take off and land on the same site, your friends can take photos or movie from start to landing.